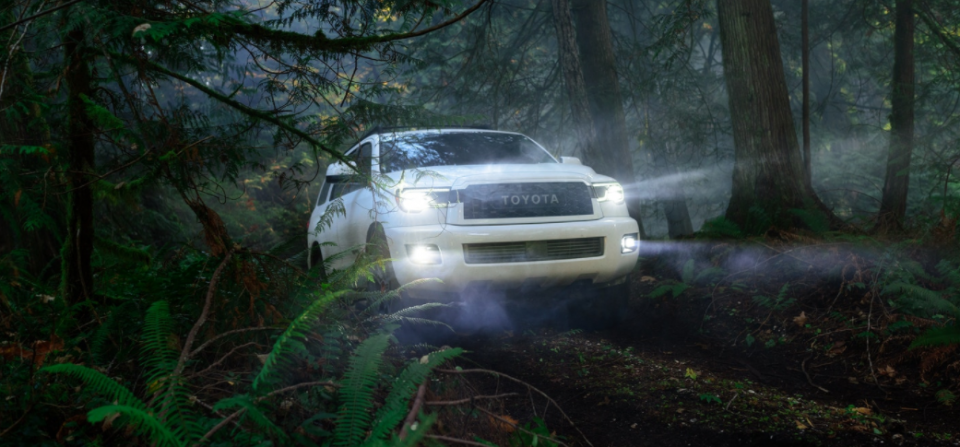 Sequoia trees are infamous for their overwhelming and breathtaking size. People travel from all across the world to the west coast of the United States to see these famous giant redwoods. There's even a national park dedicated to them, Sequoia National Park. If you've ever been there, then you've seen for yourself why people awe over the giant trees. They are one thing to see in pictures, but another entirely to see and experience in person.

 The same can be said for the SUV that shares a name with the giant redwoods, the Toyota Sequoia. Like the trees, the 2020 Toyota Sequoia is a beautiful creation that is better to experience than to see in pictures. Although, the pictures are wonderful too.
 Here are ten reasons you should buy a 2020 Toyota Sequoia. 
Passenger Space
As previously mentioned, the 2020 Sequoia is large, large enough to comfortably seat eight passengers. 
Getting In/Out
It's designed with the expectation of carrying large passenger loads. This means that Toyota designed the 2020 Sequoia for easy access in and out of the vehicle through a number of features.
Cargo Space
As you would expect with a large SUV, the Sequoia contains a massive 120.1 cubic feet of cargo space.
Small Item Storage
To go along with the large available cargo space, the 2020 Toyota Sequoia is also designed with many smaller storage cubbies that are put to great use with eight passengers on board.
Agile
Despite its redwood-like size, Toyota's version of the Sequoia drives surprisingly agile.
Smooth Drive
What is not surprising is that the Sequoia drives smoothly. Toyota has made a reputation for itself by offering cars, trucks, and SUVs that provide smooth drives and last forever. The 2020 Toyota Sequoia is no different. 
Off-Roading
Like the Sequoiadendron giganteum (the scientific name for the Giant Sequoia tree), the Toyota Sequoia also does well in nature and lets drivers explore paths of their own.
Quiet Ride
When drivers are on paved roads, they can expect a quiet ride.
Safety Features
The 2020 Toyota Sequoia is loaded with tons of features. Some include, a blind spot monitoring system, forward collision mitigation, lane departure warning, and parking sensors.
You might also like: Toyota Highlander Safety Features
Smartphone Integration
For the first year the 2020 Toyota Sequoia comes with Apple CarPlay® and Android Auto smartphone integration.
Instead of flying across the country to look at trees, pop into Thomasville Toyota and check out the Sequoias, we have here.